Bitter Seeds Wins Special Jury Commendation
"By taking us deep into the heart of a tiny village in India , BITTER SEEDS gives us rare insights into biotechnology and the future of farming.  Micha Peled spotlights the efforts of one brave young woman who dares to write about India's epidemic of farmer suicides, and with exquisite cinematography weaves a cautionary tale that reveals the frightening global impact of genetically modified crops."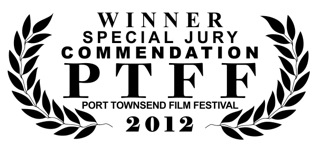 San Francisco: Coming To A Theater Near You
Bitter Seeds will have a one-week run at the Roxie Cinema 
http://www.roxie.com/events/
 in San Francisco beginning Friday Oct. 5. Opening night is sponsored by the LabelGMOs campaign. Closing night is sponsored by  Food First/Institute for Food and Development Policy.
Film Supporting Action to Stop GMOs
Teddy Bear Films has donated over 170 free screenings of Bitter Seeds. Our outreach campaign can be viewed here.
We have teamed up with The Organic Consumers Association to rally support for Occupy Monsanto's September 17th week of action. Over 130 screenings throughout the U.S. are planned to raise public awareness about the need to fight Monsanto and GMOs. In California we are supporting Prop. 37 with over 40 screenings throughout the state organized by the LabelGMOs campaign.
Official Release: Bitter Seeds DVD
The official Bitter Seeds DVD has been released. In addition to the film, it features extra scenes, chapters and a study guide. We also offer, at a reduced rate, a DVD of just the film in a clear case.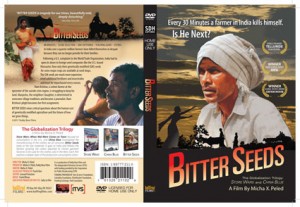 Bitter Seeds on TV in India
The film will be aired in its entirety twice on the NDTV Profit channel on Aug. 15, at 10 Am and 3 PM India time.
The broadcast air date, which is on India's Independence Day, is meaningful. Mahatma Gandhi used the symbol of home-spun cotton to represent India's struggle for self-reliance and independence.
The U.S. NGO, Link-TV, is promoting the broadcast on-line, offering viewers ways to get involved further  social networks. They are also fundraising for a village tour of the film, in partnership with local farmer organizations. The tour will bring Biter Seeds to the farmers and will include discussions with the viewers about options for change. Video clips of farmers reactions will be posted on-line.
Bitter Seeds' Director on the Leonard Lopate Show
In case you missed it, Micha X. Peled appeared on WNYC's Leonard Lopate Show Friday. The interview is available here.
BITTER SEEDS Goes to The Big Apple
The film is screening at Lincoln Center as part of the the Human Rights Watch Film Festival both Thursday June 21st and Friday June 22nd. The Friday is screening is followed by a panel discussion with Micha Peled and Debi barker of the Center for Food Safety in Washington DC.
Catch director Micha X. Peled  WNYC Radio's the Leonard Lopate Show – LIVE, Friday 6/22 from 12:40 – 1:00pp.
Micha Peled was the featured guest on WBAI 95.5 Asia Pacific Forum on June 18 Details and tickets here.
Bitter Seeds at the Chicago Human Rights Watch Film Festival
Sunday May 27, 3:15PM Wednesday May 30, 6:00PM
Guest Speakers: 5/30, Discussion with filmmaker Micha Peled, Arvind Ganesan, Director, Business and Human Rights Division at Human Rights Watch and Rebekah Silverman, Associate Director at Growing Home
Details and tickets here.
While in Chicago Micha X. Peled, the film's director, appeared on WBEZ, National Public Radio. In case you missed it, check out the podcast here.
Bitter Seeds Screening at the Newport Beach Film Festival
Bitter Seeds will screen Apr. 28 and Apr. 30 at the Newport Beach Film Festival. For details and tickets go here.
Bitter Seeds Screening at Festival Millennium 
Local organization ARC 2020 reports on Bitter Seeds screening in Brussels.
Bitter Seeds to screen at the Planete + Doc film Festival in Warsaw and Wroclaw, Poland, May 11 – 20.
Micha Peled will do three Q & As after screenings and will also take part in a debate during the festival on the issues of the film Surviving Progress.
Bitter Seeds Screening Announced in India West
 The controversial documentary "Bitter Seeds," which explores the issue of American-designed genetically modified seeds and their effect on villages across India, will screen during the 55th San Francisco International Film Festival. Continued…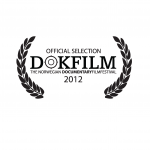 Bitter Seeds Official Selection at 

the Norwegian Documentary Film Festival
Leading Scholar Endorses Bitter Seeds
Dr. Glenn Davis Stone, Professor of Sociocultural Anthropology and Environmental Studies, Washington University is one of the leading experts in the US on the use of Bt (geneticaly-modified) cotton in India and the author of the seminal study "Field versus Farm in Warangal: Bt Cotton, Higher Yields, and Larger Questions," which is often cited in academia. Dr. Stone's reaction to Bitter Seeds: "This is a close and riveting look at daily life and farmer suicide in one of the most troubled agricultural areas of the world. It follows the collapse of one cotton farmer's life and farm, as seen through the eyes of a local girl, herself the daughter of a suicide, determined to document the area's distress. It looks closely at the forces of industrial agriculture that lie behind the inescapable debt that drives farmers to suicide." Find the study here.
>Bitter Seeds
a Finalist at the Green Film Festival in Seoul

829 Films from 64 different countries were submitted for the South Korean Green Competition.

Bitter Seeds

 was among the 20 finalist films from 11 countries which will be screened at the festival.

Details here

.

Bitter Seeds on INT'L Women's Day, Mar. 8, 2012

The sub-plot of the film follows a young village woman in India who is determined to overcome family objections and village traditions and pursue her dream to become a journalist. Recognizing its value for Int'l Women's Day, the Scottish organization Take One Action will be

screening Bitter Seeds in both Glasgow and Edinburgh

. Micha Peled will be skyping the Q & A with the audience.

Bitter Seeds to Travel to Festivals Around the World
Jan. 2012
Bitter Seeds Wins Oxfam Global Justice Award
Nov. 24, 2011 – Amsterdam
Bitter Seeds is the winner of the Oxfam Global Justice Award. Audience votes at the IDFA screenings chose the winner among the prize finalists.
This new award is presented for the documentary that best tells real stories about real people and real change.The key criteria for documentaries to qualify for this award are that they inspire us, address urgent issues, raise questions about these issues, and have the potential of changing lives forever.
With the Oxfam Global Justice Award, Oxfam recognizes the efforts of people struggling to bring developmental justice to the millions of poor and excluded people around the world. Oxfam hopes that the Global Justice Award will help focus the attention on issues of global concern, such as economic, social and environmental sustainability, livelihoods, global fair trade, empowerment, climate change and poverty resolution.
Bitter Seeds International Premiere, IDFA


The International premiere of Bitter Seeds will take place at IDFA, the International Documentary Film Festival, Amsterdam, the 16-27th of November.  It will compete in the Green Film competition.
The film was selected (out of over 300 films) for a special OXFAM Novib screening during IDFA on Wednesday, November 23 at 19:30, as the film best addressing issues promoted in the OXFAM Novib's campaign
GROW
.
The special screening will take place in IDFA's largest theater, Tuschinski 1,  and will feature an introduction by Thea Hillhorst, Professor of humanitarian aid and reconstruction at Wageningen University and later with a Q&A with the director.  For ticket information go to 
http://www.idfa.nl
.
About the film:
Rounding out his "Globalization Trilogy" with another affecting, character-driven portrait designed to indict corporate opportunism, Micha X. Peled exposes the issues underlying a rash of farmer suicides in "Bitter Seeds." —Variety 9/5/11
Every 30 minutes a farmer in India kills himself in despair. How is it that a hardworking farmer and father arrives at a point in life where the most sensible course of action is to kill himself by drinking a bottle of pesticide? It all makes horrible sense once you understand the forces at work: the tragic intersection of a high-tech industrial agriculture, the global economy and a traditional culture.
Micha Peled's vivid, rich and deep new documentary Bitter Seeds takes us to an Indian village at the center of the suicide crisis region. It follows over a season a cotton farmer and his family as they struggle to keep their land, and a teenage girl making her first steps to become a journalist and tell the world about the crisis. Bitter Seeds raises critical questions about the human cost of genetically modified agriculture and the future of how we grow things. This is the third film in Micha Peled's globalization trilogy, following the award-winning Store Wars: When Wal-Mart Comes to Town and China Blue.
Films like this can change the world. —Alice Waters
A tragedy for our times, beautifully told and deeply disturbing. —Michael Pollan
Better than a Batman movie… with real villains making up their own lines. —Peter Sellars
Emotional, gripping doc. —Variety 9/5/11
"Our previous film, China Blue, also had its European premiere at IDFA," says the film's director and producer, Micha X. Peled. "I can't think of a better European launch. This is an opportunity to thank our funders:
• Ben & Jerry's Foundation
• Columbia Foundation
• Fleishhacker Foundation
• Funding Exchange
• Park Foundation
• ITVS (Independent Television Service) with funding from the Corporation for Public Broadcasting."
Bitter Seeds World Premiere, Telluride Film Festival
Sept. 1, 2011 – Telluride USA
Bitter Seeds was one of the films singled out in an L.A. Times review, and was recommended for theatrical distribution in the Variety review.
In a Telluride Film Festival panel event, Micha Peled explained how the broad issues about the future of agriculture were distilled in Bitter Seeds into the kernel of human experience you see on screen.
Truth is crueler than fiction. It would take a mash-up of Kafka, Capote and Poe to invent the bitter storyline herein: an aspiring young journalist tracks the causes of an epidemic of farmers suicides in India… that includes her own father. —Telluride Film Festival program notes
• China Blue Selected for ITVS 20th Anniversary
Aug. '11 – USA
ITVS is celebrating its 20th anniversary. The Independent Television Service selected 20 of its 1,000 films that "represent the extraordinary contributions of independent filmmakers to public television." China Blue is among the 20 films. It will air on the ITVS Indies Showcase August 12-14.
Filmmaker Micha X. Peled reveals behind-the-scenes details about the making of the film in a video clip that is posted on YouTube .
There will also be a live chat with Micha, moderated by PBS NewsHour Correspondent Hari Sreenivasan, this Friday, Aug. 12th at 11PST. For all details, go to http://beyondthebox.org/documentary-china-blue-triggers-live-with-pbs-newshour-and-itvs-on-globalization/
• Bitter Seeds Short-listed for IDFA
July '11 – Amsterdam
The International Documentary Film Festival, Amsterdam, the world's premier festival for documentary films, announced that our film, Bitter Seeds, is short-listed for the festival. Final selections will be announced in October.
Bitter Seeds, which follows two families in an Indian village, explores the connection between the farmer's' suicide crisis in India and the genetically modified seeds the farmers must use. Currently in post-production, it will be completed by the end of this summer.
• China Blue Austria Deal
Mar. '11 – Vienna
Teddy Bear Films has just signed an agreement with One World Film Clubs Austria for China Blue to be made available online for educational purposes to Austrian students.
• Lenny Feinstein Hired to Edit Bitter Seeds
Dec. '10 – Los Angeles
TBF is pleased to announce that we've hired editor-extraordinaire Lenny Feinstein to cut the two versions (feature and TV) of Seeds (working title). Work is scheduled to begin next month.
Leonard Feinstein has worked in documentaries for over 30 years. He has edited Emmy award winning programs for National Geographic, Nova, The American Experience, as well as the acclaimed PBS series, Joseph Campbell and the Power of Myth. He was nominated for an American Cinema Editors "Eddie" for the feature documentary Darfur Now, and in 2009 he was awarded an "Eddie" for editing the TV reality series Greensburg. He has frequently collaborated with contemporary artists and has worked on films about Robert Irwin, Ed Ruscha, and Twyla Tharp.
• Will My Mother…Revival
July '10 – Berlin
Micha's first film, Will My Mother Go Back to Berlin? comes out of the archives to screen July 29 at the German Historical Museum in Berlin. When released in 1993, Will My Mother played to sold out theatres and elicited many letters of support and thankful emotion from German, American, and international viewers. Among other awards, Will My Mother won Best Documentary at the International Hawaii Film Festival and Germany's prestigious Robert Geisendörfer Preis, making Micha Peled the first non-German to do so. The Los Angeles Times venerable movie critic Charles Champlin called it "a hell of a good movie."
• Iran TV Pays Up
June '10 – Iran
Finally, 3 years after doing so, Iran State television IRIB has paid up for airing China Blue. We're proud to be home to one of the few American filmmakers whose work has shown on Iranian TV.
• Our Films on VOD Germany
June '10 – Germany
China Blue and Store Wars join the online distribution revolution! Both these films are now available on-line on demand from Germany's Realeyz .
If you do not live in a supported country, see our DVDs page to find out how to obtain a DVD of any of our films directly from us.