We hit our target, but we're still fundraising because we had to use some of our own money to reach the 30K marker. After deducting Kickstarter commissions, we cleared only 21K. If you'd like to support this important film, please contact us. All contributions are tax-free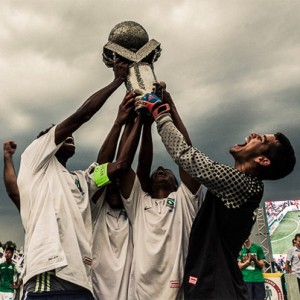 GOAL! is an inspiring documentary about how soccer helps  the homeless regain control of their lives. It follows the five women who go on the U.S. team to the Homeless World Cup.

Can soccer help people out of homelessness? The transformative power of sports launches Kay from Charlotte, Angelina from Sacramento and their teammates from around the country out of their shelters and lives at the margins of society to represent the U.S. in the Homeless World Cup. This initiative combines soccer with assistance in transitioning out of homelessness through job, education and housing. Boarding an international flight, the players embark on a journey of a lifetime, where they will meet and compete against homeless soccer teams from 50 nations, and be challenged to their limits. (More…)
Watch the reel here.
Jan 10, 2014
We did follow-up filming with our characters , Kay in Charlotte, NC, and Maria in Minneapolis to see how their lives have changed since the trip to Poland. (More…)
Nov. 20, 2013
The U.S. sent both Men's and Women's teams to the Homeless World Cup, which took place this year in Poznan, Poland. Over 50 countries participated, and the place felt like an Olympic Village. Our players, who have never left the country before, had a real eye-opener to the Big World out there. Friendships formed easily. We filmed there for ten days with two Polish shooters. (More…)
August 20, 2013

The SFF selected our new film, GOAL! The Incredible Journey for funding of the early production phase. (More…)
July 20, 2013
The three-day, eight-camera shoot of the Street Soccer USA Cup is a key part of our new project. Production begun in March. Many thanks to GoPro for donating HERO 3 cameras, which enabled us to get some awesome footage… (More…)