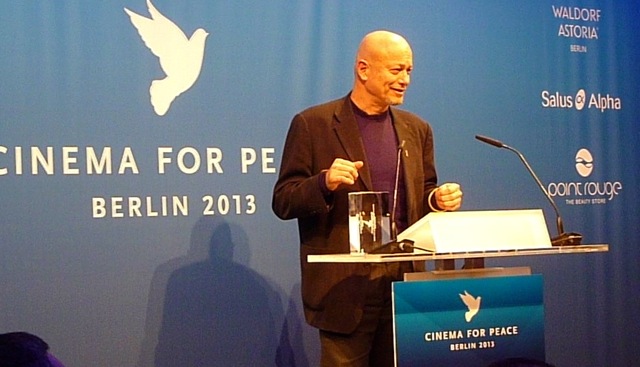 Bitter Seeds has won the 2013 Cinema for Peace International Green Award . The award, founded by Leonardo DiCaprio in 2010, is given at a gala event during the Berlin Film Festival.Micha Peled was at hand to receive the award from the head of the UN World Food Program in Berlin. Among the finalists Bitter Seeds beat to win the award were Gus Van Sant and Matt Dillon with feature Promised Land and Jeremy Iron with Trashed.
Bitter Seeds Wins IDA Humanitas Award in Los Angeles 

The International Documentary Association (IDA) selected Bitter Seeds for the Humanitas Award.
This award is given to a film that explores the hopes and fears of human beings who are very different in culture, race, lifestyle, political loyalties and religious beliefs in order to break down the walls of ignorance which separate us
In his speech, Micha Peled's dedicated the award to India's farmers. But it was his comment about Monsanto at the end of the speech that got the most attention. See the speech clip here.
Bitter Seeds Wins Korean Green Award 
Bitter Seeds won the Jury Award at the Green Film Festival In Seoul. "Showing your film at GFFIS2012 is prestigious honor and happiness for all of us," said festival organizers. It comes with a 30,000 Won award.
Bitter Seeds Wins Twice At IDFA in Amsterdam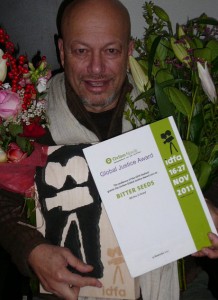 Bitter Seeds won the Green Screen competition Award at IDFA, the International Documentary Film Festival in Amsterdam. Fifteen films competed, of which three were nominated. Earlier, the film had won the Oxfam Global Justice Award (see below).
The competition jury president, Joe Berlinger (Paradise Lost), read out the jury's the reasons for the award:
One film in particular stood out for its skillfulness in weaving together an economic, agricultural and sociological narrative, but above all in telling a number of different human stories. It showed us struggle, but also a possible way of escape. It added up to so much more than the sum of its parts. It was masterful, cinematically rich and it totally grabbed us in the guts. That film is… Bitter Seeds by Micha X. Peled.